Jurassic World: Dominion Dominates Fandom Wikis - The Loop
Play Sound
Remember, Aros-savvy individuals, no spoilers. Keep Aros-related pages friendly for the unknowing public.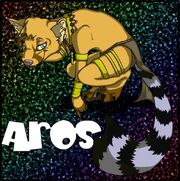 Aros, created by Zeru, is a mysterious character found in the world of Feila. More commonly known as "that damn Cacomistle," many despise him for his five-finger discounts. Not much is known about him, and on the Feila forum, there is a special agency known as the APP, the members of who have been recruited to protect the identity of Aros.
Rise to Glory
[
]
The character of Aros began a simple existence as one of Zeru's role-playing characters. It wasn't until after his creation that he was considered, along with several other characters, to be the subject of his own protection agency. The idea was taken from another forum, where a mysterious character known as Joe was heavily guarded from spoilers by a team of JIPA (Joe Identity Protection Agency) members. Liking the idea of a clue hunt, the Feila staff decided to have their own shrouded individual to protect. Included among those nominated was RabidFox's character, Lucas, though, his identity was so obvious that there was nothing to hide. Since the charismatic Aros had so far possessed an elusive past and there were few other characters to choose from at the time, the cacomistle was quickly selected to be the subject of the quest. Since the creation of the APP, the meatier details of Aros' past can only be found in the APP board, which can only be gained access to by completing the Quest for Aros.
Quest for Aros
[
]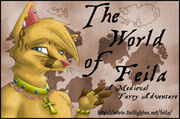 The Quest for Aros is a clue hunt at the Feila forum that has been running since the early days of the board. It revolves around Aros and his murky past, a story that can only be revealed by searching the forum for information on Aros' identity. After collecting enough information to apply for the APP, the data can be sent via private message to Zeru for confirmation. If the information is correct, then the user is allowed to join the Aros Protection Program. APP members have a special duty that obliques them to report any Aros spoilers that are posted in the forum by someone other than a staff member. They are also granted access to the APP board, where they can find out even more information about Aros that isn't revealed in the public areas, as well as view various artwork of the elusive cacomistle. Additional privileges include a red username, APP member tag, and APP membership card.